Armside Pitches
This is part 4 of the Every Pitch in Baseball Series.
Table of Contents
1. Armside Pitch Continuum
2. Changeup(Splitter)
Are Splitters Changeups?
Velocity Continuum
2.1 Movement(Grip) Types
Straight Changeup
Vulcan-Change
Circle Changeup ("OK-Changeup")
Frisbee Changeup ("Reverse Sliders")
Cut-Change
Gyrospin Changeup
Palmball
Splitter
Split-Change
Forkball?
3. Screwball
Velocity Continuum
3.1 Movement(Grip) Types
Submarine Fastball
Screw-Change ("Air-bender")
Reverse-Slurve ("Screwball")
Churve ("Dead-Fish")
Reverse 12-6
---
Armside Pitch Continuum
It's easier to understand Gloveside pitches if you think of them as a continuum:
Fastball – Changeup/Splitter – Screwball
As they approach the Screwball, pitches are slower with more break. Although, Screwballs are more like Changeups with extra drop, not horizontal break.
---
Changeup(Splitter)
As written here, calling a pitch a breaking ball or an offspeed is about the effects, not necessarily how the pitch moves. If it disrupts timing, it's an offspeed. If it disrupts location, it's a breaking ball.
The Changeup is the icon of offspeeds and the primary weapon against other-handed hitters.
For a long time, Changeups have "only" been offspeed pitches. Any extra break used to be deemed "bad" because that kills deceptiveness, which is important to offspeeds(they should look similar to the Fastball to change speeds without the hitter noticing early on). But in modern baseball, you can see plenty of breaking-Changeups.
Like Curveballs, many pitchers throw it, but only a few pitchers throw this pitch as their main weapon. The vast majority of pitchers(especially bullpen) use the Slider as their secondary while mixing in Curveballs and Changeups here and there to "keep the hitters honest". Though, the best Changeups are just as good as any other pitch.
The diagram below is a cartesian plane of movements. Lower means more fall, Left/Right is sideways break.
It's based on the amount of break is *created* by the ball, without gravity. If the pitch has a positive vertical break(above the line), the pitch doesn't rise. It just falls less.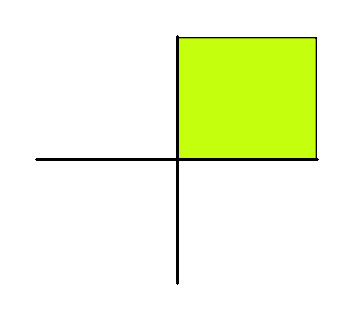 The top-right(green) quadrant is the directions Changeups break towards. Up and Right(for right-handers).
Changeups tend to be a lot less distinct compared to other pitch types because they mostly spin in a similar direction with Fastballs, especially Twoseamers(some drop more than Changeups). That's why most of them are offspeed pitches.
However, most Changeups have a slower spin-rate than the Fastballs, making them drop more. Also, they spin closer to (or completely)sideways than Fastballs, making them have more armside break.
Are Splitters Changeups?
Pretty much.
This is very confusing to people because the name "Splitter" comes from "Split-Finger Fastball"(although they aren't Fastballs). Since most people think of Changeups as offspeeds, it naturally seems like they're 2 distinct pitch types.
In reality, the "difference" between them is the grip(see below). Since Changeup grips are a dime-a-dozen, the Splitter is a sub-type of the Changeup.
Velocity Continuum
~5 mph : Power Changeup
5-7 mph : Hard Changeup
7-10 mph : Changeup
10-14 mph : Soft Changeup
14+ mph : Slow Changeup
As written here,
Calling a pitch a breaking ball or an offspeed is about the effects, not necessarily how the pitch moves.
If it disrupts timing, it's an offspeed. If it disrupts location, it's a breaking ball.
---
Movement(Grip) Types
Because there's a lot of overlap in the movements between Changeups and Fastballs, we have to classify the movements of Changeups based on the difference with the Fastball.
In the meanwhile, most of the names come from the grips.
Straight Changeup

A Straight Changeup is thrown just like a Fastball, with a slower speed. The ball is held loosely, which gets the fingers to apply less force and put less spin on the ball.
Because Straight Changeups have such poor movement(basically a slow Fastball), professional pitchers don't throw it anymore; in the occasion where the hitter expects it, the ball gets crushed.
Pitchers that still throw Straight Changeups include John Means, Trevor Richards, Lucas Giolito, and Others
Vulcan-Change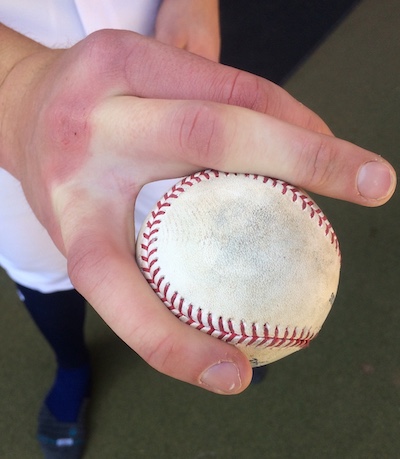 Vulcan Changeups are mostly thrown with a "Vulcan Grip", where the ball is held deep in-between the middle and ring finger. As the ball gets released out of the hand, the fingers slip to the side of the ball, killing spin and velocity.
Vulcan-Change has become popular in the 21st century, essentially replacing the Straight-Changeup, because it was easier to throw "and" had better movement.
Many pitchers throw Vulcan Changeups with the middle/ring finger on top of the ball instead of the Vulcan Grip and use finger pressure to get the effects instead of the grip. Unlike the Circle-Change, most of the pressure is on the middle finger.
Today's best Vulcan Changeups are thrown by Chris Paddack, John Gant, Zack Greinke, and others.
Circle Changeup ("OK-Changeup")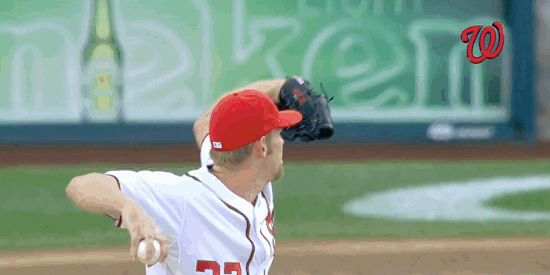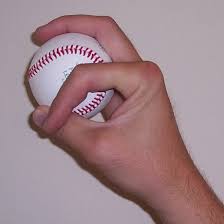 This is the most common type of Changeups. Not only was it always popular, it became even more popular in the 21st century because of its movement.
It's called a Circle-Change because of the "circle" shape that the grip makes(see above). The grip also looks like an ok sign, which is also the name of this pitch. Although, many pitchers grip their Circle Changeups without the circle.
Since most of the pressure is on by the ring finger, this pitch has quite a bit of "axis tilt" from the Fastball. In other words, if the Fastball spins at a 1:00 axis, the Circle-Change is going to spin at around a 1:30-2:30 axis, which gives it an extra drop and run to it.
That's why it's more popular today. For a long time, pitchers struggled against opposite-handed hitters because they didn't have a pitch that was moving away from them. The Circle Changeup was the perfect solution.
This pitch is almost a necessity for lefty starters because they have to face an unending string of righty hitters.
Today's best circle Changeups are thrown by Hyun Jin Ryu, Max Scherzer, Mike Minor, Wade Miley, and others.
Frisbee Changeup ("Reverse Slider")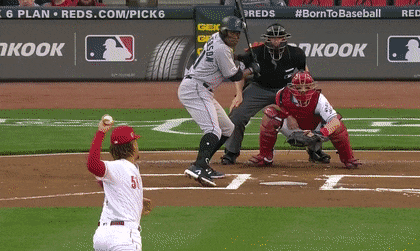 The Frisbee Changeup is often called the "ideal Changeup". It spins completely sideways(just like Frisbee Sliders), and creates a big break, unlike most Changeups.
Because they spin sideways, they have a lot of horizontal movement, moving about 20 inches arm-side. Considering the natural run on Fastballs, Frisbee Changeups create 10+ inches of horizontal separation.
To throw this pitch, the pitcher has to pronate(and get the fingers to the side of the ball), while using the Circle-Change grip. Sounds hard? It is. Only a few pitchers succeed to throw this pitch, and it's common for those pitchers to be better against opposite-handed hitters.
Today's best Frisbee Changeups are thrown by Luis Castillo, Lance McCullers Jr., Spencer Turnbull, and others.
Cut-Change
This is a unicorn pitch that is rarely thrown.
It's essentially a Straight Changeup with little to no horizontal movement. In other words, it's a pitch that moves more glove-side than the Fastball.
At the moment, Kyle Hendricks(the Changeup master) is the only pitcher who throws it a lot. He uses this offspeed pitch against right-handed hitters the same way as using the Circle-Change to a lefty.
Gyrospin Changeup
This pitch is truly a unicorn pitch because nobody else than Matt Andriese has ever thrown this pitch.
The ball spins like a left-handed pitcher's Gyrospin Slider, which nobody really knows how the physics work, for the right-hander to throw it.
Palmball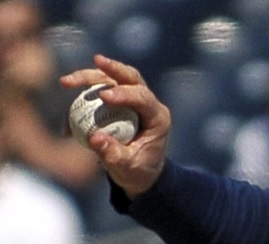 As you can guess, this pitch is thrown with a "Palmball Grip", which brings the ball deep inside the hand to the palm. By doing so, the pitcher can take more velocity/spin off of the ball.
The main problem with this pitch is that it's hard to control, doesn't have a lot of movement.
This pitch became famous in the 90s, as Trevor Hoffman(one of the best closers of all time) used it as his primary offspeed pitch.
It's extinct, currently. Perhaps someone could bring it back in the future.
Splitter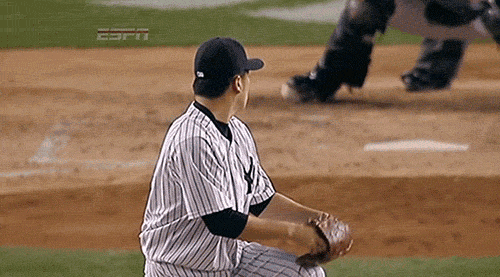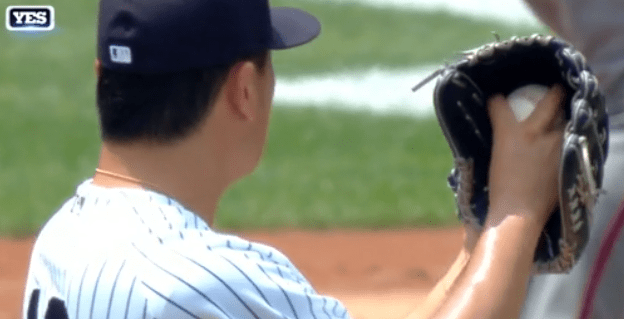 The Splitter grip is thrown with a "Split-Finger Grip" which is basically a Vulcan grip but with the index-middle finger. This grip generally takes off more spin and less velocity from the Fastball.
Remember that the Splitter is not a Fastball. This pitch was originally a faster version of Forkball, which is probably why people named the pitch "Split-Finger Fastball"
Although it's not so popular in western baseball, it's extremely popular in Japanese baseball. It's actually the Japanese Leagues' favourite secondary(non-fastball) pitch.
The Splitter is mainly characterized by the downward break it has, with a similar lateral break to the Fourseamer. Most Splitters drop 15-20 inches more than the Fastball. Also, because it's thrown like a Fourseamer, and spins like a Fourseamer(but slower), it's extremely deceptive.
Today's best Splitters are thrown by Ohtani Shohei, Hector Neris, Oliver Drake, and others.
Split-Change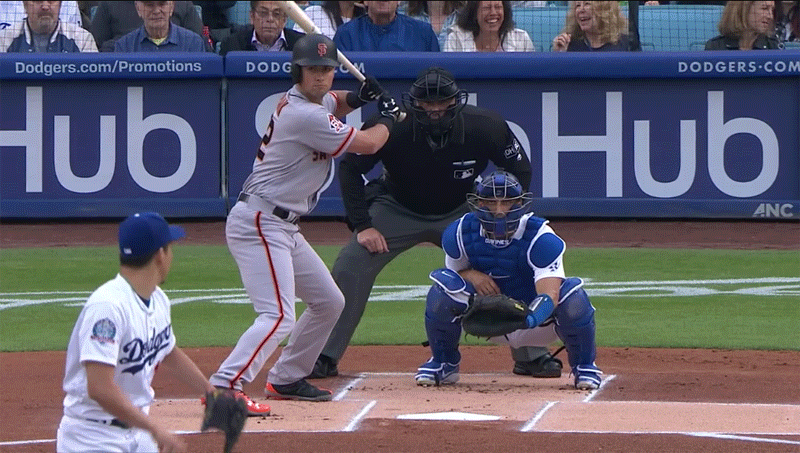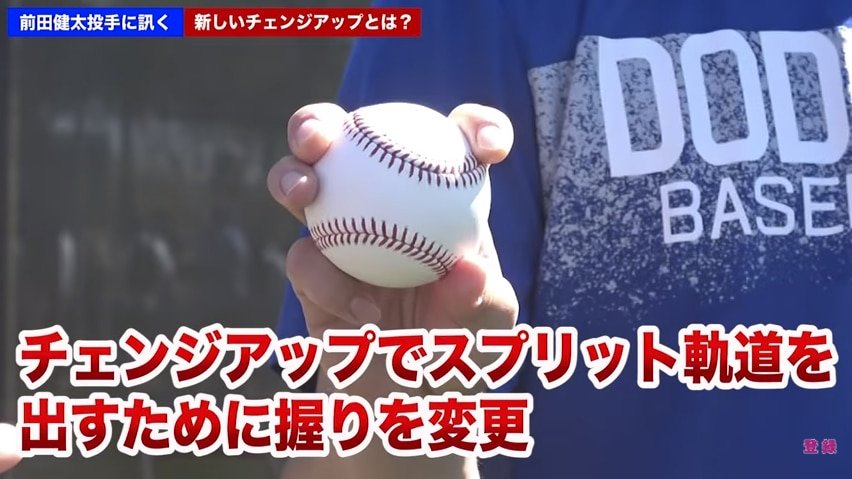 The Split-Change is an unpopular pitch that's thrown with a "hybrid grip". While the Changeup is usually a pressure pitch and the Splitter is usually a grip pitch, the Split-Change takes a mid-way approach of combining the two together.
The hybrid grip is a Splitter grip with less space between the index and middle finger, not letting those fingers slip off as easily. The ball is then thrown with less pressure to decrease velocity and spin-rate.
Tim Lincecum(a.k.a. the Freak) dominated the league in 2008-11 with the Split-Change, combined with a Hard Fastball and a Hammer Curveball.
Today's best Split-Changes are thrown by Tommy Kahnle, Maeda Kenta, Kevin Gausman, and others.
Forkball?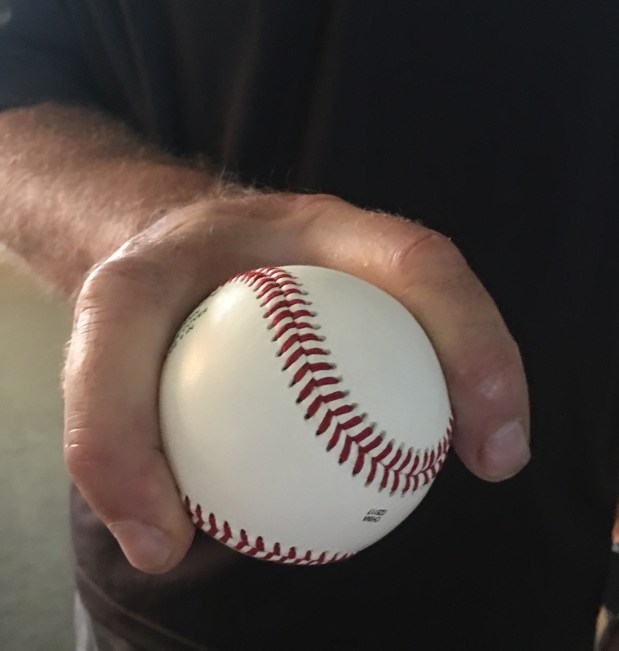 The forkball is the origin of Splitters. The ball is held even deeper into the fingers than Splitters, taking off even more velocity and spin to the point that the ball actually has top-spin.
Hence, this pitch really isn't a changeup; it's more of a Curveball.
This pitch is pretty close to being extinct in today's game because it taxes the body significantly. There's no controversy on the Forkball putting a lot of stress on the elbow, along with grip fatigue that comes with the Forkball grip.
---
Screwball
The Screwball is a pretty rare pitch type that's only thrown by a select few pitchers. All Screwballs are very hard to throw, and very (controversially) injurious.
There have been such few pitchers throwing this pitch, that Wikipedia has a list of all MLB's Screwball pitchers, and the list consists of less than 50 pitchers. To put that in perspective, there have been around 10,000 MLB pitchers ever.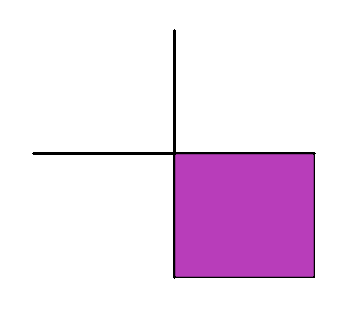 The bottom-right(purple) quadrant is the direction Screwballs break towards. Down and Right(for right-handers).
Some Screwballs are Changeups with top-spin. Like Curveballs are to Sliders, they come with similar horizontal breaks to Changeups.
Some Screwballs are Curveballs that break to the armside rather than gloveside.
The Screwball's effectiveness mostly comes from being rare, which is a pretty advantageous trait for a pitcher. Hitters have a tough time because the pitch breaks in an unexpected direction.
Velocity Continuum
0 mph : Submarine Fastball
~10 mph : Hard Screwball
10+ mph : Screwball
---
Movement(Grip) Types
Submarine Fastball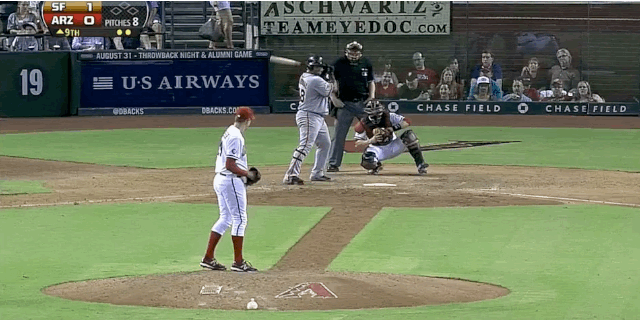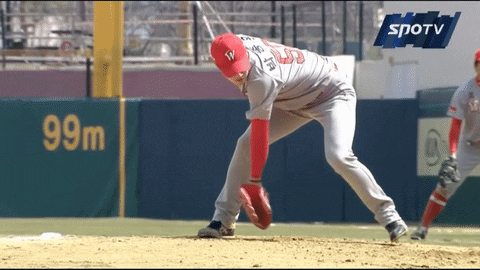 This is a Fastball thrown by pitchers with an underhand arm slot (hand below the head). "Submarine" is a nickname given to pitchers with that arm slot.
Submarine pitchers are in their own world when it comes to pitch types because they're essentially upside-down. It's hard to put their fastballs along the lines of normal Fastballs because they break downwards. That's how they're classified as Screwballs instead.
Screw-Change ("Air-bender")
This pitch was invented by Devin Williams only a few years ago.
This is a Sidespin-Changeup but with a downward break.
You can probably imagine how hard it is to throw since it's got even more tilt than a Side spinner.
He throws it with an absurd amount of pronation, with almost 0 pressure on his middle finger.
This pitch was a sensation in 2020, and Williams won the Trevor Hoffman Award "and" the Rookie of the Year Award.
Reverse-Slurve ("Screwball")
This is the original Screwball that's extinct from the game. It moves similar to the Airbender.
However, unlike the Airbender, the pitch's spin is created only by the pronation of the wrist, not the grip itself.
Because the pitcher has to twist the wrist(and the connected shoulder) like a screwdriver, it got the name Screwball and damaged shoulders.
Fernando Valenzuela is the biggest name when it comes to Screwball. He's the one and only pitcher to ever win the Rookie of the Year Award and the Cy Young Award.
Churve ("Dead-Fish")
Cesar Valdez came back to the Major Leagues recently, at the age of 35, with a pitch that has never really existed before.
This pitch uses the Seam-Shifted Wake effect on a Sidespin Changeup, giving it a movement that's somewhere between a normal Curveball and a Changeup. It has the same amount of horizontal movement as a Fourseamer while falling as much as a Slurve.
It's called a Churve or a dead-fish, and the pitch has been quite effective so far.
Reverse 12-6
Although no pitcher ever regularly threw this pitch, this is a valid pitch type that's occasionally thrown, accidentally, by pitchers who throw 12-6 Curveballs.
It goes the other way. In other words, the 2-6 inches of a slight glove-side break on a typical 12-6 Curve goes arm-side instead.
A pitcher can throw this pitch by doing extra-pronation when throwing a 12-6 Curve.
So, coming up next: Weird Pitches
---