Gloveside Pitches
This is part 3 of the Every Pitch in Baseball Series.
Table of Contents
1. Gloveside Pitch Continuum
2. Slider
Velocity Continuum
Are They Breaking Balls or offspeeds?
2.1 Movement(Grip) Types
Tight Slider("Slutter")
Gyrospin Slider("Gyroball")
3/4 Slider
Frisbee Slider
Floating Slider
3. Curveball
Velocity Continuum
3.1 Movement(Grip Types)
1-7(11-5) Curve
12-6 Curve ("Rainbow") ("Waterfall")
Sweeping Curve ("Sweeper")
Slurve
Knuckle Curve?
---
Gloveside Pitch Continuum
It's easier to understand Gloveside pitches if you think of them as a continuum:
Fastball – Cutter – Slider – Curveball
As they approach the Curveball, pitches are slower with more break. Although, Curveballs are more like Sliders with more drop, not horizontal break.
---
Slider
This is the ultimate weapon against same-handed hitters, and "the" most popular breaking pitch in the history of baseball. It has always been the pitch that creates the most swing&miss. Most Strikeouts are thrown with the Slider, and the Slider results in the most outs of all pitches.
It's often said that becoming a complete pitcher requires these three pitches: Fourseam-Changeup-Curveball. But most relief pitchers don't follow that rule. Instead of throwing Changeups and Curveballs, relief pitchers throw a combination of A. Powerful Fastball(any kind) and B. Powerful Slider.
Why? There could be many reasons to choose that combo, but the main reason is that a powerful Fastball-Slider combo is the best generator of strikeouts. And strikeout is the king. What's the most important trait that the pitcher needs when he has to get an out, with runners on, without letting a single hit and giving up even a single run? The ability to strike the hitter out. Teams demand it, fans demand it, so they bring it in.
Slider is also an easy pitch to throw. Particularly the Tight Sliders and Gyroballs. Changeups and Curveballs sometimes take years to master. Knuckleballs always take years to master, if anyone succeeds. Sliders could only take days to be game-ready.
The diagram below is a cartesian plane of movements. Lower means more fall, Left/Right is sideways break.
It's based on the amount of break is *created* by the ball, without gravity. If the pitch has a positive vertical break(above the line), the pitch doesn't rise. It just falls less.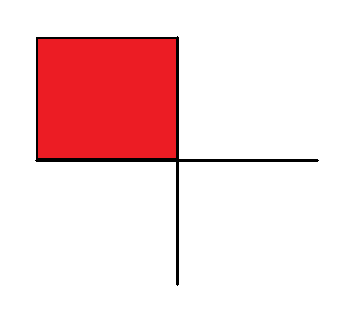 The top-left (red)quadrant is the direction Sliders break towards. Up and Left(for right-handers).
"Don't Sliders have downward break though?" That's true… compared to the Fastballs. In traditional baseball, the "break" is described as the difference with the Fourseam Fastball.
On this chart, Fourseamers would be the closest to the top, and in the top-right quadrant. Most Sliders are pretty close to 0 Vertical(upwards) movement.
Velocity Continuum
These are velocity ranges slower than the Fastball:
~5 mph : Breaking Cutter / Power Slider
5-7 mph : Hard Slider
7-10 mph : Slider
10-14 mph : Soft Slider
14+ mph : Slow Slider
Are They Breaking Balls or Offspeeds?
It depends.
Calling a pitch a breaking ball or an offspeed is about the effects, not necessarily how the pitch moves.
If it disrupts timing, it's an offspeed. If it disrupts location, it's a breaking ball. Some pitches are actually both. Some pitches are mostly offspeed with a slight break, and vice versa. In fact, a pitch could be an offspeed to a lefty, and a breaking ball to a righty.
Although, as you'll read below, some pitches are mostly used as one or the other.
---
Movement(Grip) Types
Tight Slider("Slutter")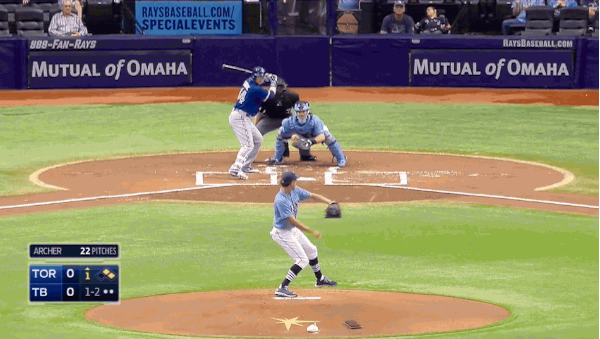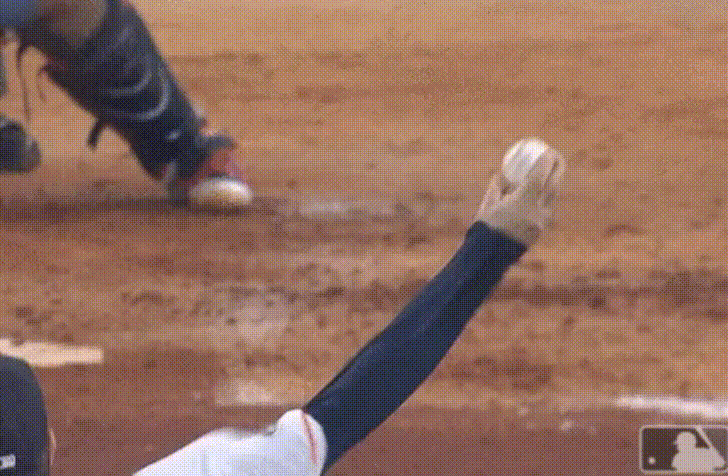 This pitch accounts for 100% of all Breaking Cutters out there. Hard Sliders are mostly this pitch, too.
Breaking Cutters have a little bit of vertical/horizontal break, which is a tradeoff for the high velocity. As shown in the .gif on the right, the fingers stay ~45° behind the ball to apply force onto it.
Today's best Slutters are thrown by Clayton Kershaw, Justin Verlander, Jacob deGrom, and others.
Gyrospin Slider ("Gyroball")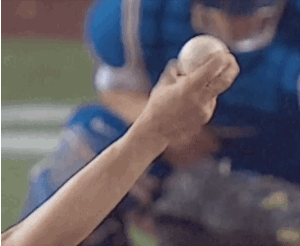 Theis pitch has a close to pure-spiral(gyro) spin to it. Because gyro spin doesn't create any movement, it goes almost straight without gravity. With gravity, the pitch drops quite a bit, giving it a lot of downward break from the Fastball(which has a lot of upwards movement).
This is the most common Slider type. The fingers stay behind the ball very little, which makes them slower than Breaking Cutters.
Now, because it's physically impossible to have a completely 0% efficient spin, Gyrospin Sliders move about 2-6 inches glove-side.
Today's best Gyroballs are thrown by Max Scherzer, Trevor Bauer, Dinelson Lamet, Dylan Bundy, and others.
3/4 Slider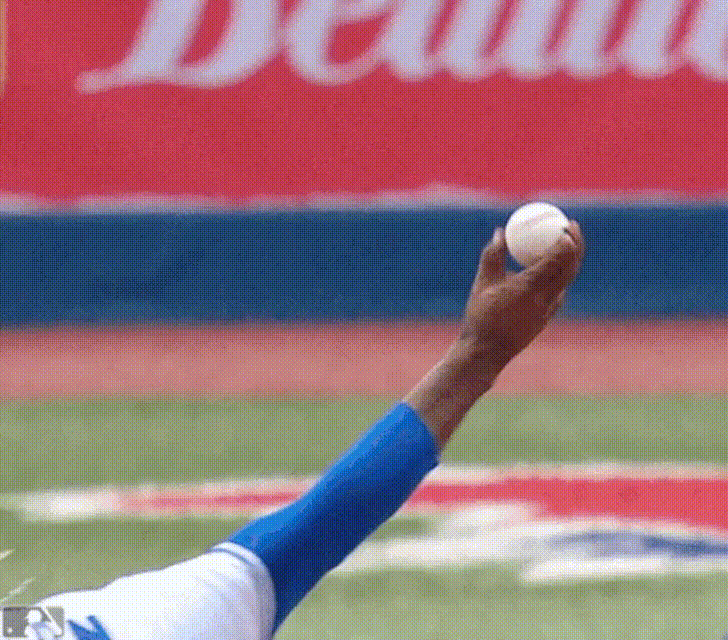 3/4 Sliders are Gyrospin Sliders with some extra horizontal movement to them.
Unlike Gyroballs, they increase the spin efficiency to put more movement on them. Since they move about 10 inches glove-side, they create 20+ inches of horizontal separation with the Fastball.
This pitch is really, really tough for same-handed hitters because at first, the ball looks like it's going in the strike zone, but a split-second later they move away out of the zone(.gif above). The ball is far away, and it's hard to chase after it.
Today's best 3/4 Sliders are thrown by Marcus Stroman, Max Fried, Max Scherzer, Miguel Castro, and others.
Frisbee Slider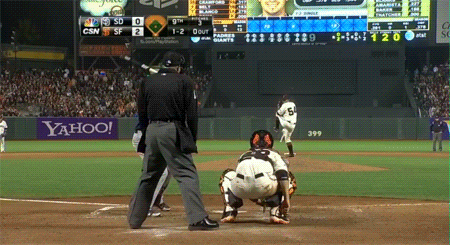 This pitch spins almost completely sideways, giving it a ton of horizontal movement. These pitches move 15+ inches glove-side, and considering most pitchers throwing this pitch also throw a Twoseamer, they create 30+ inches of horizontal separation.
Meanwhile, some people argue that the Frisbee Slider is actually a Curveball-type, and it's pretty reasonable: A. It's thrown like a Curveball and B. Most Frisbee Sliders have a bit of downward break, which should make them Curveballs.
Today's best Frisbee Sliders are thrown by Chaz Roe, Kyle Crick, Adam Ottavino, Darvish Yu, and others.
Floating Slider
This is a unicorn pitch that only a few pitchers throw.
It's like a Breaking Cutter that is slow with high efficiency, which gives them a lot of horizontal breaks and vertical rise. In other words, it's a 3/4 Slider that drops little.
Today's best Floating Sliders are thrown by Elieser Hernandez, Brooks Raley, Luis Patino, and others.
---
Curveball
Carrots might be good for my eyes, but they won't straighten out the curveball.

Carl Furillo
(HItter)The Curveball is the oldest non-fastball in the record books. It's known to be invented around the 1870s, which goes back to the beginning days of MLB. Candy Cummings is usually credited for coming up with the pitch(he apparently got the motive while fooling around with clamshells).
Because of its history and its big & beautiful break, Curveball is still the icon of baseball's breaking balls.

The bottom-left(blue) quadrant is the direction Curveballs break towards. Down and Left(for right-handers).
Curveballs have top-spin, which is opposite to Fastballs with back-spin. In other words, they break in completely opposite directions with (most)Fastballs.
Because that's the case, Curveballs have the biggest contrast with the Fastball.
But because that's the case, it's easy to tell. Traditional Curveballs are known to "pop" up out of the hand, which is a sign hitters use to not get fooled. As mentioned before, strikeouts are king in modern baseball, convincing fewer pitchers to learn the traditional Curveball.
Instead, faster Curveballs with shorter/tighter breaks have become incredibly popular today, because they don't have that "pop", which made them basically Sliders with a bigger break, pairing nicely with the Fourseam Fastballs to create Swing&Misses.
In the meanwhile, traditional Curveballs still have their use today, here and there. Get-me-over-Curveballs, which are thrown for safe strikes early in the count, are pretty effective because A. Big breaking pitch is hard to make solid contact with, and B. Being slow makes it hard to time, especially when waiting for the Fastball.
Velocity Continuum
~12 mph : Power Curveball
12-16 mph : Hard Curveball
16-20 mph : Curveball
20+ mph : Slow Curveball
---
Movement(Grip) Types
1-7(11-5) Curve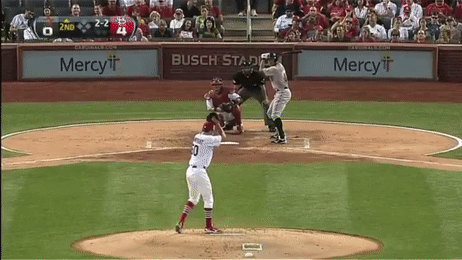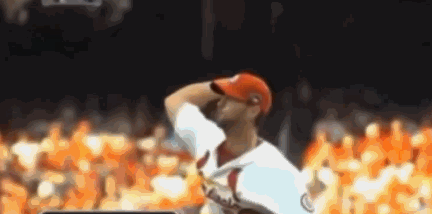 This is the most common Curveball type. It has a lot of drop "and" break. It's called a "1-7" because the ball looks to move from 1 to 7 o'clock direction.
When a person throws the Curveball, the middle finger has to be in front of the ball to pull down the front side of the ball in order to create that top-spin. That obviously makes it one of the slower pitches, because the fingers can't apply the force from behind.
For many beginners, it's hard to put pressure on the middle finger but not the index finger. So they first learn the "beginner's grip", which takes off the index finger from the ball. Pitchers are taught to "point the index finger at the target", which you can see Adam Wainwright doing in the .gif above.
Today's best 1-7 Curves are thrown by Blake Snell, Zack Greinke, Jimmy Nelson, Ryu Hyun-Jin, and others.
12-6 Curve ("Rainbow") ("Waterfall")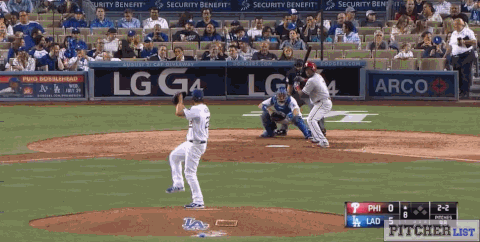 The 12-6 Curve is probably the most famous, most popular, most iconic pitch in baseball. It makes a big & beautiful arch that many like to call "rainbow".
Unlike the 1-7 Curve, the spin is almost perpendicular to the ground, which maximizes the vertical drop on the pitch(video above).
"Hammer 12-6 Curve combined with a Hard Fourseam" is known as the formula for the Old School Ace Power-Pitcher. Clayton Kershaw dominated the league, and is now up for debate as to the greatest pitcher of all time, with this combo(along with a Power Slider) throughout the entire last 2010s. In his prime, his Fastball and Curveball had 60 inches of vertical separation.
Today's best 12-6 Curves are thrown by Clayton Kershaw, Tyler Glasnow, Nick Anderson, Max Fried, and others.
Sweeping Curve ("Sweeper")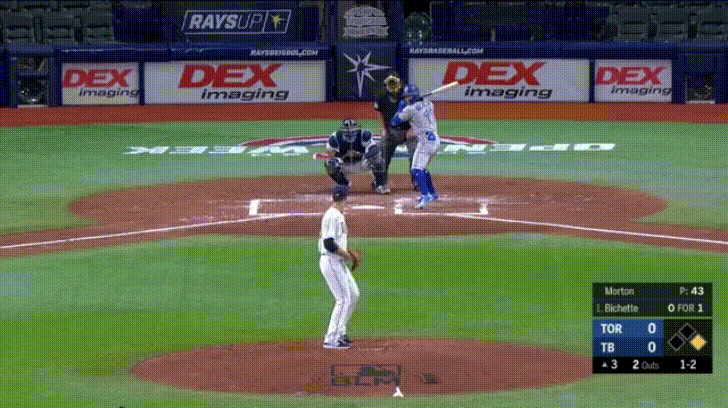 This Curveball has the most amount of horizontal break. It's basically a 1-7 Curve with extra horizontal break, or a Frisbee Slider with extra vertical break.
Today's best Sweeping Curves are thrown by Rich Hill, Julio Urias, Charlie Morton, Tejay Antone, and others.
Slurve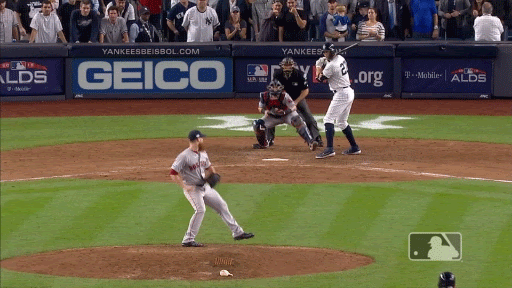 This is a pitch that doesn't have a lot of movement for a Curveball or a Slider with a downward break. It's essentially what most(if not all) Power Curveballs are; in-between Slider-Curveball pitch.
The best Slurves have the best of both worlds; velocity of a Slider, movement of a Curveball. And the worst? Vice versa.
Today's best Slurves are thrown by Craig Kimbrel, James Karinchak, Drew Pomeranz, and others.
Knuckle(Spiked) Curve?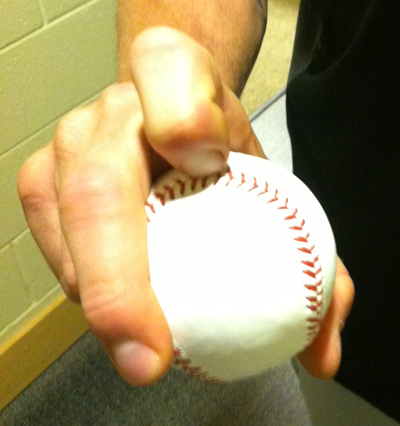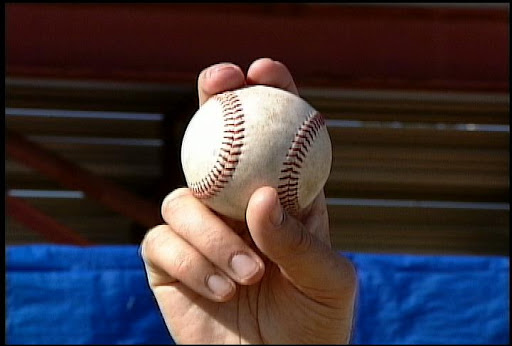 The term "Knuckle Curve" comes from the grip that pitchers use. Unlike a traditional grip, the index finger is bent and pressing onto the seam.
For the most part, the grip does nothing special compared to other Curveball grips. Many pitchers who use this grip believe that it gets a tighter grip on the ball, which can help increase the spin-rate(movement).
So, coming up next: Armside Pitches
---