Patrick Corbin's Slider
About a week ago, Devan Fink wrote an interesting article about Patrick Corbin's slider and how extension might be the missing factor in 2021.
Intrigued by the article, I went on to validate it using the data from Baseball Savant.
I created a chart by sorting sliders by release_extension and matching them with (aggregated)delta_run_expectancy. I set the pitch count minimum at 50 to limit noise. The results weren't too interesting: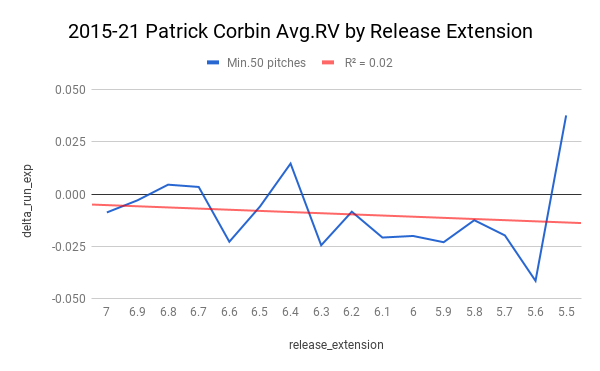 Then I tried to "fit the narrative" and manipulate the dataset into requiring a higher pitch count, and ended up with this chart: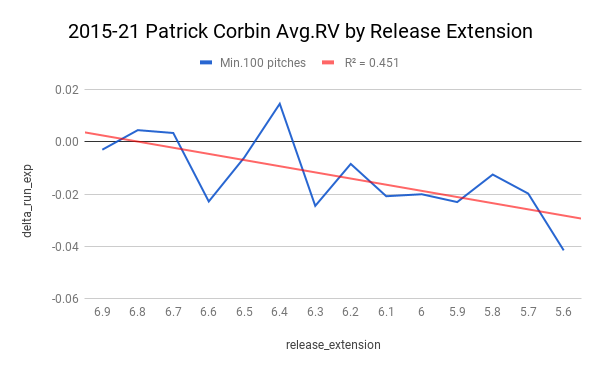 This was enough to motivate me to take a deeper look.
Extension Inflation?
One thing I found strange was that there was nearly no overlap(image) between the 2019 & 2020-21 release point distributions, with no news about him changing his mechanics–such difference(approx. 0.7ft) doesn't simply occur naturally, especially over a single offseason.
Then I found an article by Johnny Asel who has pointed out the "extension inflation" by the new Hawk-Eye system. He found out that the average player has gained .315 feet of extension in 2020.
I took another look at the data, and turns out different pitch types gained different amounts of extension: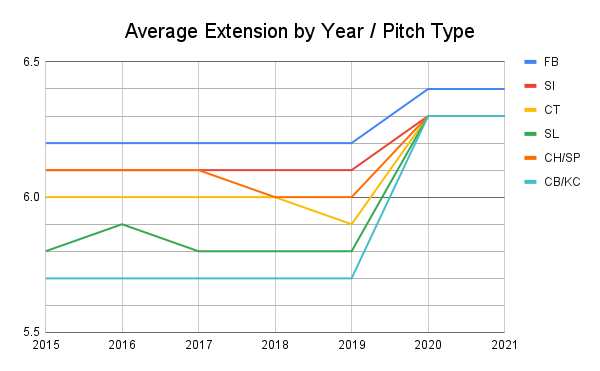 Essentially, the separation in average extensions between pitch types disappeared–to 6.2ft.
"Is TrackMan right, or is Hawk-Eye right?" The difference between TrackMan and Hawk-Eye is that TrackMan only tracks the ball, while Hawk-Eye tracks everything(including the pitcher). During a pitch, the radar sees the changes in ball velocity and estimates the release point; the ball slows down as soon as it leaves the hand.
So turns out, most pitches leave the hand at the same place but start applying less direct pressure at different times.
Back To Corbin
Patrick Corbin's slider extension increased about 0.7ft in 2020, and another 0.1ft in 2021. How much of that was due to Hawk-Eye? Unclear, although likely none at all, as sliders saw the biggest increase in extension with Hawk-Eye(shown above).
Because there is little overlap, it is maybe unfair to attribute extension difference with such importance, while it is the only evidence we have. For that to be true, we would have to find evidence within 2015-2019 / 2020-21 that shows a relationship between extension & outcome.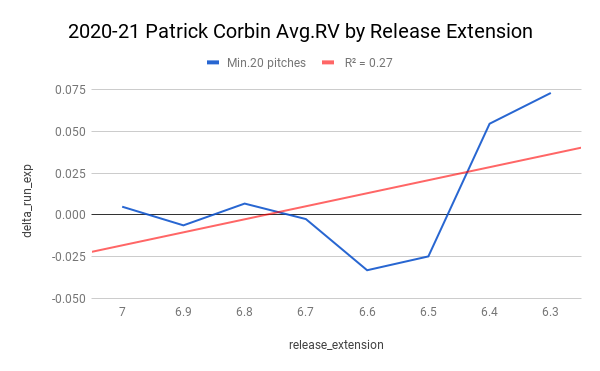 In 2020-21, Corbin was effectively worse with a shorter extension on his slider. Particularly at the shorter end of the distribution(6.3 ~ 6.4), his sliders have performed poorly, especially in contrast with the "equivalent" extensions(6.0 ~ 6.1) of the previous years.
Although, I do believe that attempting to adjust extension is still a viable option, considering the level of struggle he's having today. Despite the lack of significant evidence, bringing the average extension down to 6.3(similar to 2019, accounting for Statcast inflation), or even lower, could fix the problem by bringing back whatever was making his pitch effective.
The Extension Debate
As MLB is currently experimenting with the Minor Leagues and mound distances, there have been discussions across the baseball community if moving the mound back helps the hitters, and by how much.
Reaction Times
The initial theory, it seems, was that it would give hitters a longer reaction time, thus decreasing the so-called "perceived velocity" of pitches.
However, the theory does not realize that the most important time interval isn't the whole trajectory, but is commit point-to-plate. (Commit point is when the hitter "commits" to swinging the bat. Baseball Savant has it at 167ms before plate). That time interval is dependent on the pitch's velocity 'at' the commit point, which is mostly determined by the initial velocity.
Tunneling
The most plausible effect of extension would not be about reaction time, but tunneling. Having a shorter release-to-commit time interval, which is largely affected by the extension, makes pitch type detection harder.
Movement
On the contrary, some(famously Kyle Boddy) believe that longer distance gives a pitch more time to break, thus increasing the movement of pitches.
This argument does not take into consideration that the bigger break, that comes with distance, would be an early break; 10in break across 60ft is a lot less sharp compared to the same break across 50ft, let's say. The early break is worse for tunneling.
Net Effect
After all, it seems pretty clear that, if anything, trajectory length doesn't have a general/substantial relationship to performance.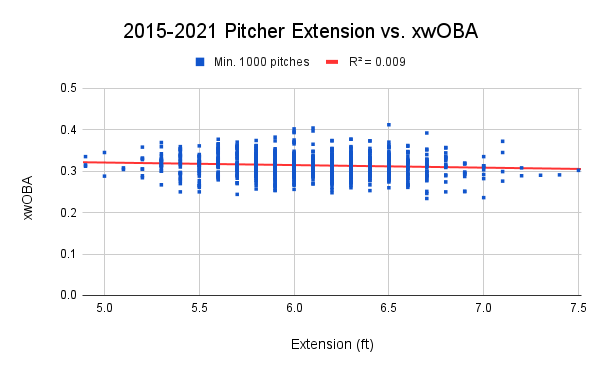 Simply speaking: if extension mattered universally, like velocity, then there would be a clear correlation between extension and wOBA.
And so it seemed, a few inches back-and-forth doesn't matter.
Where Extension Could Matter
I went around looking for pitches that were affected by their extensions, not expecting anything significant. Particularly the offspeed-type pitches(CH/SL).
Surprise surprise, they did exist. Here are some examples:
Linear
Kyle Hendricks
The most solid example comes from Kyle Hendricks with a linear correlation.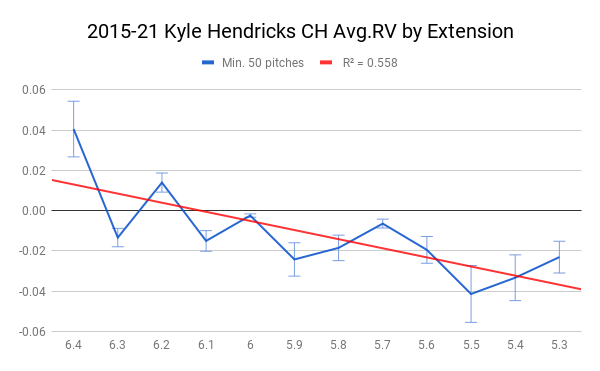 *The error bars represent 0.5 standard deviations in RV
For Hendricks, extension made a big enough difference such that the pitches had RV/100 difference upwards of 4 at the extremes.
In case the data was impacted by inflation, I created the same chart using the 2015-19 data: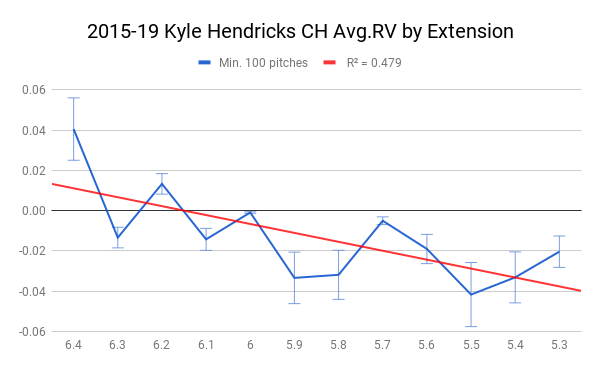 Alex Claudio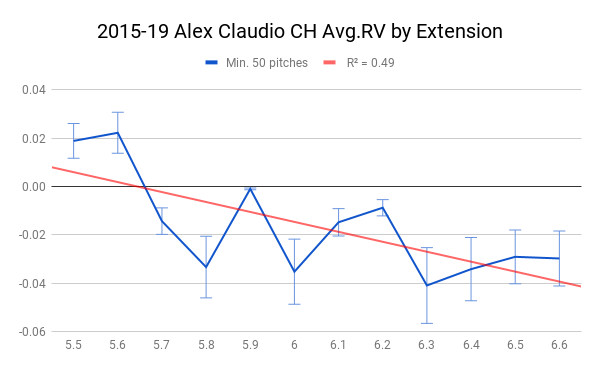 Claudio's changeup is interesting as the pitch improves with more extension, not less.
Perhaps this pitch benefits from better tunneling than a bigger timing difference.
Mike Clevinger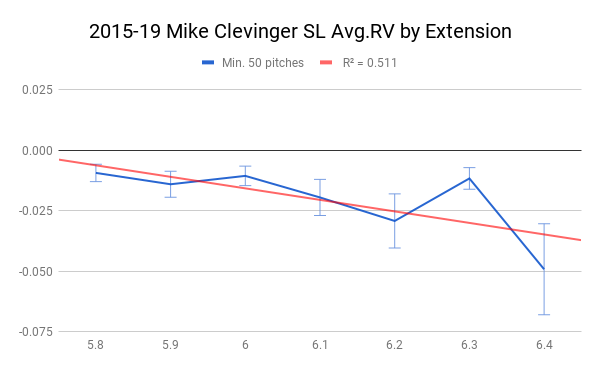 Clevinger's slider is odd because it is not an offspeed pitch, but a breaking ball with a lot of movement.
This pitch also benefits from having more extension.
U-Shaped
Ryu Hyun-Jin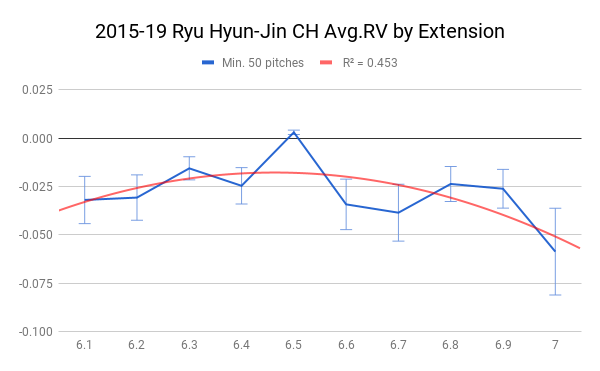 Ryu's changeup performs somewhat evenly across the board, it improves as it gets further away from the average(6.5ft).
There could be a reason for this, or it may just be a result of random probabilities.
Chris Sale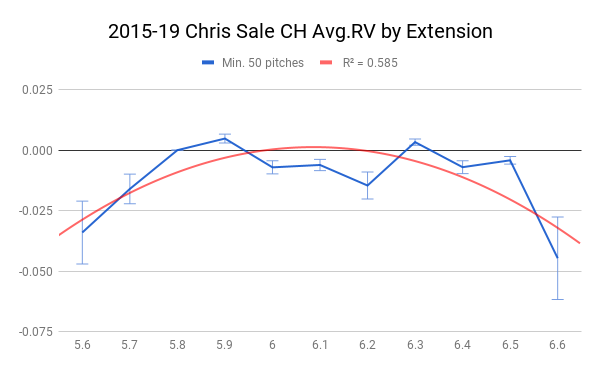 This pitch has a similar chart, but with a significant edge at the ends of the distribution. Although it may be a sample size issue, it is unlikely given that the issue rarely, if not never, happens with minimum pitch # at 50.
Conclusion
The essence of extension is ambiguous; it could matter, it could not, or it could depend on the pitcher / pitch type.
In any case where it seems to matter, it is unclear as to what the exact mechanism is. It could just be a simple timing/tunneling effect, or something much more complicated e.g. perception.
It is exciting to see a potentially new material, in search of performance.