Table of Contents
1. The Self
2. Modifying the Self
3. Methods
4. Related Posts
---
1. The Self
Can You Change Your Self?
Yes.
I don't understand how this is debatable. There are too many examples where people change, completely.
Yes, it's rare. But, rare ≠ impossible. It's not easy, but doable.
Then, why don't most people change? Because people don't understand…the "how".
Before the "how", the "what":
.
What: Map of the Self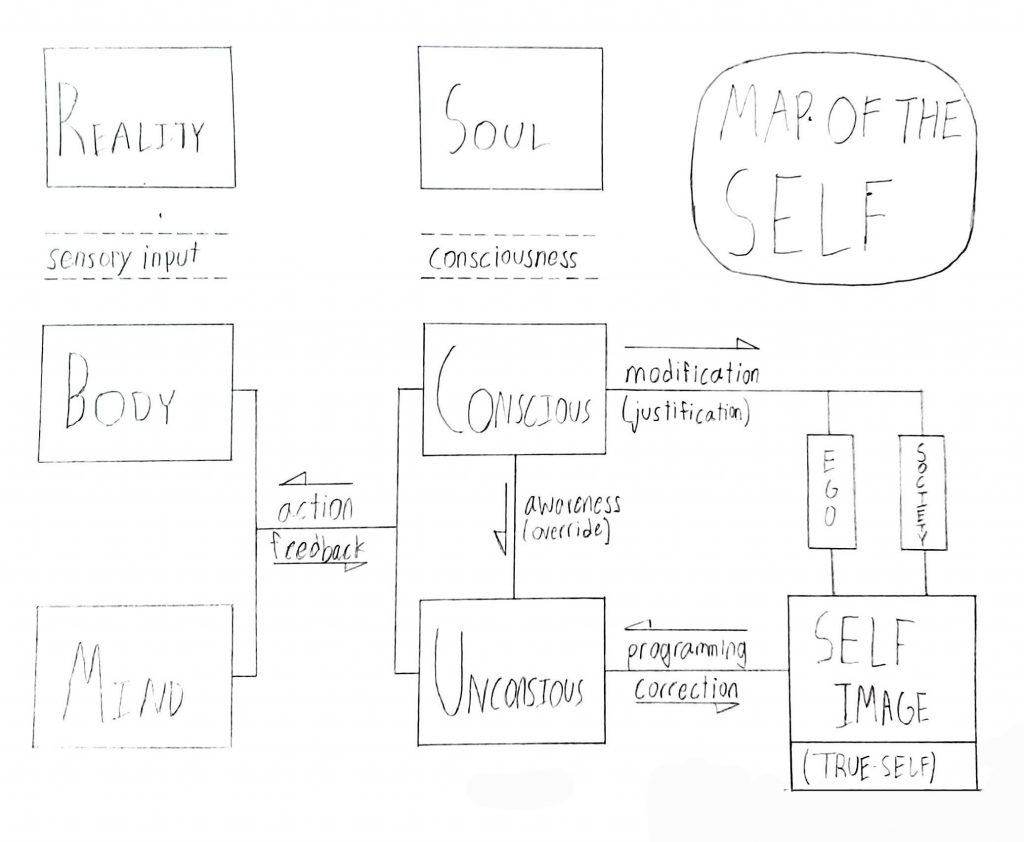 The body (seemingly) interacts with reality through sensory inputs.
The soul retrieves experiences from the conscious through consciousness.
The (un)conscious tells the body/mind what to do(action).1

Then the body/mind returns experiences(sensory inputs / thoughts).
The self-image is corrected/justified based on the experiences.
.
Conscious vs. Unconscious
Your behaviour is dominated by the unconscious.3Not a bad thing.Why? Because it's way more powerful than the conscious.
(E.g. There is no way you can (full-awareness) consciously hit a flying baseball with a bat. The conscious can't calculate the trajectory and precisely move all the joints within milliseconds. The unconscious can.)
So, changing the self(behaviour) is about changing(reprogramming) the unconscious.
That's the conscious' job. That's what "you" can do. That's free will.4"The ability to change the self is the free will that matters."
.
Mind
The mind is responsible for thinking. All your thoughts come from your mind. It's the voice inside your head. When you're imagining something, the mind creates the imaginations.
In the map, it's separated from the body.5Because it feels so distinct.But, the mind is a body part.6Despite it being in the brain, like the (un)conscious.
The mind is like the lungs. (Thinking & Breathing) It's running 24/7. When you're walking/sleeping/eating/etc., it's running. You can consciously stop thinking(breathing), but only for a short time.
Here's a twist: you won't die from not thinking. Actually, thinking is the problem.
.
(Little About) Soul
Your body is made up of octillions of atoms…yet, there's only 1 consciousness(point of experience).
'Soul' is the "entity that experiences through consciousness." Or even, experience the consciousness.
"If there's consciousness, which is experience, then who is it that is experiencing the experience?"
I'd argue that, while it is possible to create consciousness, it's impossible to create the soul (within reality); it doesn't even interact with reality!
.
Behavior
Behaviour (as a whole) is a construct. "Personality" is just the way you act(behave).
You've developed it (without even knowing). It's just that, because it was made up so early, it doesn't feel like it's made up.
In reality, (almost) everyone is a narcissist. Everyone has their "persona"–the 'self'.
You're not born with it. As a kid, you just had desires(fears).7Sure, you might've gotten more angry, or happy…trivial details.You happened to do stuff, and experience feedback…your "personality" ingrained into you through reinforcements.
People's personality changes.8My personality has changed severely, multiple times, across my life.If something can be changed, how can it be "born" with the end results?
.
---
2. Modifying The Self
They're All Habits
Behaviour is mostly habitual.9the unconscious is in charge.
It's all habits. As I'm writing this, my mind is creating ideas on its own, and my fingers are typing on their own; it's all subconscious.10Further: the music is a BGM, as I habitually scratch my back, as my eyes "read" words–the brain converting letters into information.
Humans are habit machines. We barely have free will.11The unconscious doesn't have free will.Even your emotions are habitual–it's all reactionary.
∴ Changing the self ≈ Changing the habits
.
Self-Image
Simply trying to "change behaviour (habits)" doesn't stick. Especially if it's substantial.12Like quitting smoking.
Why? Equivalence.
When something is such a big part of your life, it's part of your 'self'. Changing those things is "becoming a different person." You can't become a different person, thinking that you're the same person. You have to think differently; you have to modify your self-image.
Changing the self ≈ Changing the habits
Changing the self ≈ Changing the habits + Changing the self-image
.
Understanding Is a Given
You can't change anything unless you understand it.13Else, how do you know what you're changing, exactly?
If you want to "stop being angry", you have to ask: "when am I angry?" "what makes me angry?" "why was I angry?" "etc. etc. etc."
And most importantly: "why do I not want to be angry?" "do I really not want to be angry?" "am I getting something from being angry?"
Examples14If you want to stop smoking, "why do I smoke?" "when do I smoke?" "what makes me smoke?" "why?"15If you want to study, "why do I want to study?" "what makes me study?" "what makes me not study?" "do I get overwhelmed?" "did non-liking-this-subject become my identity?"
The problem often lies somewhere else, somewhere deep.
.
---
3. Methods
Dependence
The biggest force of change is desire. No trick is more powerful than a strong desire.
And desire is a function of how much is on the line.
If your entire life depends on "taking vitamin D in the morning", you'll do it. Substitute "entire life" with what matters to you: status, money, family, peace, etc.
If there isn't enough on the line, put more on the line.16E.g. put money on the line using stickK (not affiliated)
.
Social Contracts
Behavioural consistency is real. Humans instinctively have a tendency to be consistent with their past behaviour/announcements.
If you tell everyone, "I'm gonna work out, I'm serious.", you're more likely to work out. Your reputation is on the line, enhanced by your instincts.
Pretend to be "x". Feel good about it. Now you want to keep it. Then be "x'.
(Personally, I'm magically disciplined when somebody is watching me, and I'm trying to prove something to them.)
.
Environment
Your behaviour is (partly) a function of the environment.
If you're in a gym, you're almost certainly going to work out. If not, you probably won't.17This is why "home workouts" don't work (for beginners especially). Home is for "relaxing" not "pumping sweat".
Environment also means "people": If you're surrounded by a bunch of entrepreneurs, you'll end up starting/joining a startup.
(Personally, I have a desk "just for work". I keep it empty. As soon as I sit on it, I start working.)
.
Immediate Experiences
Noticing yourself being fat, in the mirror, works better than other people telling you, "you're fat".
It's an immediate experience. Immediate(vivid) experiences directly convert "knowledge of the head" into "knowledge of the heart".
Faster/stronger feedback leads to more reinforcements; reinforcements keep you going. If workouts immediately lead to more muscle mass, every guy would be fit.
Hence, tracking a bunch of metrics, to see progress, is effective.
.
Discipline
I'm not the biggest fan of discipline.18It affects unstructured creativity, it feels to me.But it works.
Discipline is overcoming the mind. When you're about to do something painful, your mind creates all kinds of imaginations (of the pain). It's talking you out of the activity.
Don't "fight" the mind. As soon as you start fighting the mind, you've basically lost. Instead, ignore the "mind".19Don't think about going to the gym; just go to the gym. Don't think about writing; just write.
("Just Do It" is the greatest catchphrase ever, imo. It's just too effective.)
.
Small Steps
The problem is usually "trying to do too much." It doesn't work. The evidence is too clear.
We get overwhelmed easily. So we quit early.
Instead, shift the question:
"Can you run 10k?" → "Can you run the first 1k?" → "Can you run the first 100m?" → "Can you step outside the door?" → "Can you put your shoes on?" → "Can you put your socks on?"
You can always do "a little bit more."
.
---
4. Related Posts
Questions & comments are welcome!