Table of Contents
1. On Self-Image
2. Attachments
3. True-Self
4. Life
5. Related Posts
---
1. On Self-Image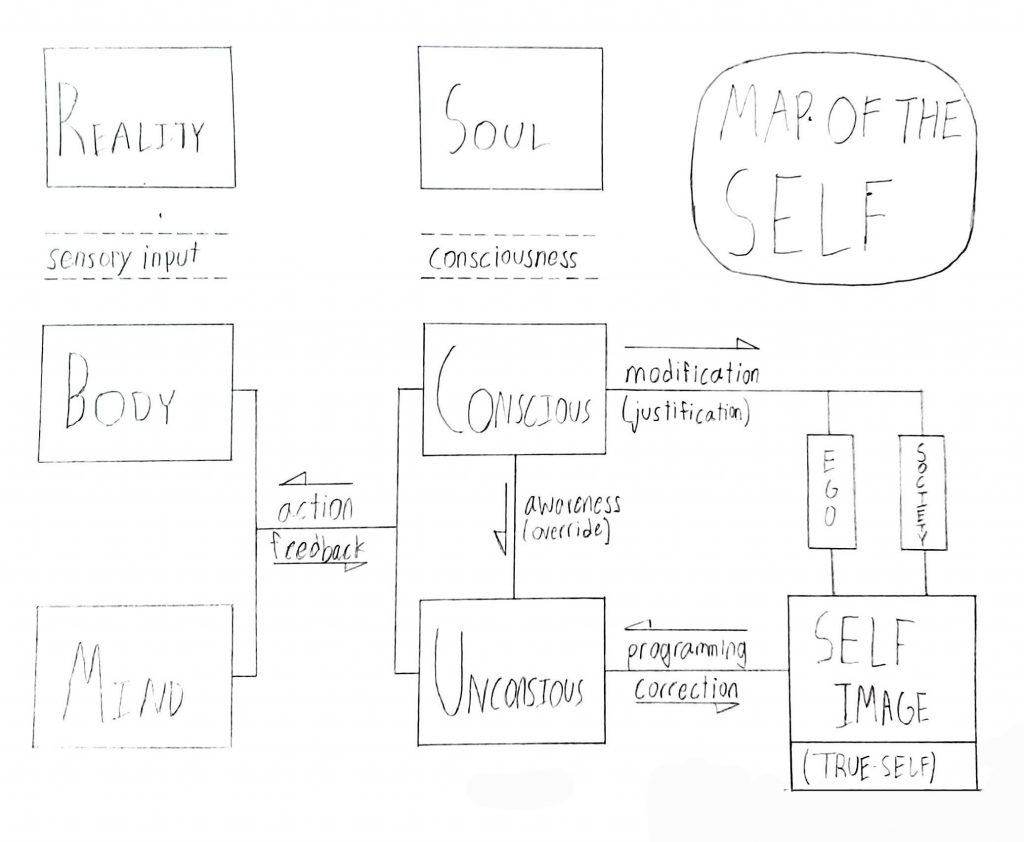 Self-Image
Self-image: what you think you are.
It's an internal description of your 'self'; the answers to "who are you?": What does your hair look like? What's your favourite food? What's your job? Etc.
They're all pieces of your self-image. Your image of your body, dreams, relationships…forms the persona called "you".
.
Equivalence
"People by and large become what they think of themselves."1William James
If you believe you're an "ethical citizen", you'll act ethically. You'll put garbage in the garbage can; you'll pay all the bus fees.
Even if you weren't, you'll start putting garbage in the garbage can.2As soon as you realize it has anything to do with ethics.
How? Equivalence.
When you notice yourself throwing away garbage, you feel a conflict between your 'self' & 'self-image'.3An "ethical citizen" would dispose of it properly. You're supposed to be ethical. But you aren't acting like one.To resolve the conflict, you pick up the garbage and put it in the garbage can…and stay consistent with your self-image.
The self-image is reinforced through reality.
You believe you're good at 'x'.
You do 'x'…pretty badly.
The self-image breaks…you no longer believe you're good at 'x'.
(Negative emotions if "being good at x" matters)4Most commonly, ego; many people can't accept "losing" in anything–they can't accept losing status.
Your behaviour (unconscious programming) ≈ Your self-image(identity)
(Personality is a part of the 'self': characteristics)
If one day, you believe you're extroverted, you'll be extroverted.5It'd be magical; all the memories(reinforcements) of being introverted, cancelled!
This is easy to notice with kids. Tell a kid, "you're very kind", he'll act "more" kind. Tell a kid, "you try so hard", he'll try harder.6Unless it's said demeaningly, of course.
Examples7Personally: growing up, "baseball" & "willpower" was my identity (quite extremely). That entirely formed my behaviour. Not as much, today. Hence, my behaviour differs.8(Hypothetical) Give an alcoholic an "I hate drinking" identity. Remove all the drinks from his house. It'll be a long time until he drinks again…perhaps never.
.
Self-Awareness
Self-awareness is the most important skill in 'ownership'9and life in general.
Because to the degree you understand something, you can change it10or make something out of it. If you understand airplanes well, you can change them; fix them or make them better.
The same goes with your 'self'; if you understand your 'self' well, you can modify it.
Modifying the self starts with modifying the self-image.
Modify self-image → Modify behaviour →11or ≈Modify self (as a whole).
.
---
2. Attachments
"Attachment is a state where something is part of you."
The pieces of your self-image…are all attachments.
What does that mean?
Your car, your phone, your books…
Your parents, your brothers/sisters, your friends…
Your hands, your legs, your hair…
Your school, your job, your clubs…
Your achievements, and failures… … …
…everything is attachment.s
If it hurts to lose it, it's an attachment.
(How strong is an attachment? As much as it hurts to lose it.12It'd be pretty tough if you were to lose your foot.)
.
Side Effects
Attachments13pieces of self-image refuse to be removed.
Why? Because it hurts to remove them.
Why? Because you're getting something out of them.
All attachments give you something. Whether it's your car, your parents, your hands…you're getting something out of it. Something that you want.14Even if it's something "negative". It's a nice material for pity.
Side Effect #1: They resist change
In order to make any form of meaningful progress, you have to change. In order to change, you have to modify your self-image. That means throwing away attachments.
But, you intuitively want to keep the attachments. That's resistance.
Side Effect #2: They affect peace
Reminder: when you lose your attachments, you suffer.
So, you (intuitively) try to protect your attachments. You're constantly in battle mode; you're constantly in worry. That's not peace.
.
Action
Attachments aren't necessarily bad. Why? They create results.
If you don't have a strong desire(attachment), you can't work your hardest.15You don't have enough will(power).
If you don't have a strong belief(attachment), you can't fully commit to anything.
Full commitment and intense work (among other things) are absolute necessities for incredible results.16I sincerely believe that it's the incredible experiences that make life worth living.
.
Unattached
So, what do you want?
You want to be strongly attached to very few things, and unattached to everything else.
Have peace17for the most part, make changes18in other words, get other attachments out of the way, and do great things.
The process is (mostly) removing attachments; dis-attaching; reducing the self-image. That's 'independence'.
.
Where Attachments Come From
"How do I become unattached to this?" "Stop caring about it." "How do I not care?" "…"
This isn't a good way to go about it; no answer to that last question works much.
You have to understand. Let's try again:
You're attached to something because you're getting something out of it.
What are you getting out of it? Something that you desire.19
What do you desire? Why do you desire?
There's a lot to gain from "negative" attachments.
19
E.g. "I'm bad at math" "I'm introverted" "I was born poor"They're great excuses (covered by pity).
20
If you say something in the lines of, "that's just who I am", how can it be attacked? It's unacceptable to attack someone's trait that he can't change.
Yes, they're legit. They suck. So leave them–the attachments.
Desires come from what matters. Hence, attachments ultimately come from what matters. The root points.
It all goes back to self-awareness; asking yourself all these questions. Understanding.
When you truly understand, attachments disappear. Like magic.
.
---
3. True-Self
What Are "You"?
Are you, your hands? Your personality? Your status? If your hands got amputated, are you not "you", anymore? Mm…not really. You're still "you".
Here's an answer: you're 'consciousness'; you're the audience experiencing the movie; you're the soul.
This answer is unsatisfactory. Why? Because 'consciousness' doesn't interact with reality; this answer means nothing to reality!
Let's think twice: the question, "what am I?", isn't asked in a first-person's POV. I mean, we all know who we are, right?21After you lose all your limbs, you still can't be more sure that you're still "you". Even after you lose your memories, your stream of experience seems to continue at the same place(body).The question is actually asked in a third-person's POV.
So, a slightly different question: "what is your 'self'?"
You'd answer it with your self-image. You'd say, you're a "combination" of your hands/personality/status/etc. It's a meh answer.
.
Not Anybody Else
"What is somebody referring to, by (your name), exactly?"
Is it your hobby? Not quite. Somebody else (probably) has the same hobby. What about your face? Somebody else (probably) has a very similar face. Is it your intelligence? Somebody else (probably) is just as smart as you.
Point: the replicable parts about you, don't make you, "you". It's not just "about" you, but what "separates" you from everybody else.
You are what nobody else is. That's your 'true-self'.
.
True-Self
As you remove all the pieces of the self-image, you'll find yourself stuck with some of them.
That's your 'true-self': the unexplainable, unremovable22You like something, but you can't explain why. The only explanation you can give is "just 'cause".parts of your self.
They're unique interests & unique talents.23Interests: what matters . Talents: characteristics
You can't explain why you're intrigued by something; you can't explain how you're talented at something24how you think a certain way, how you move a certain way, etc…you don't even know how you do them, yourself.
You can't choose/change them, nor can anybody replicate them.
With just your true-self, you live the life you're "meant to" live: fulfilling your true desires, in ways no one else's done, in places no one else's been to.
.
Sidenote: Be Yourself
What does it mean, to "be yourself"?
Here's what it doesn't mean: don't change (your self).
That's nonsense. Change yourself (as you wish).
(Frankly, that's the most common interpretation.25Reminder: people often don't understand what they're saying. Especially if it "sounds good". Especially if somebody else has already said it.26This is why it tends to be such bad advice; not bring results.)
For one, it means: stay true to your true-self.
Rather true than false.
For two, it means: don't have more than 1 self-image (at a time).
You can change yourself. Just don't have more than one at a time.
It's incredibly difficult to maintain multiple personas. They conflict with each other all the time–that's un-peace.27If you want evidence, go look at the celebrities. Are they happy?(Probably) not worth it.
.
---
4. Life
Life is a Movie
It's not "like" a movie, it "is" a movie. How?
It's a simulation. It's made up.28Which doesn't affect the way you should live, exactly, but regardless.
You('soul') are the audience. The experience is 'absolutely' real, and for there to be an experience, there must be an experiencer.
You('conscious') are the director. You have 'free will'; you can modify your 'self'.
Your 'self' is the main character. It interacts with the world.
.
Your Self
Bigger self-image ≈ More attachments ≈ Stronger sense of self -> The more you care about your 'self'.
(Pretty much) All 'feelings' come from (caring about) the 'self'. You feel good/bad about your self, you feel hungry/sleepy/sore/etc. So, peace needs a loose sense of self.
Your self feels so important. But it's not. Your self doesn't matter (that much).
Nothing lasts forever. If you're Jesus Christ, your name might last a few thousand years…that's it. The universe is ~14 thousand-thousand-thousand years old. (Not to mention, it's a simulation.)
The main character isn't that important. "What the main character does" is important.
.
Your Character
Have you ever looked at yourself, your 'self', like you'd look at a fictional character?
Can you? Can you think of yourself, and all the characteristics, without being attached?
"What is your hair like? What were your grades in school? What were your rejections like? "
Emotionlessly. Because you can. You are not your "self". It's possible to look at yourself from a third-person's POV.
Or, perhaps, you're too attached to yourself.
.
---
5. Related Posts
Questions & comments are welcome!