Here's some notes about Pitch Simulators.
It's been more than 100 years since Charles Hinton designed the first-ever pitching machine. Surprisingly and disappointingly, it hasn't improved much since then.
After the inventions of flying cars and 140 characters, we're still left with machines looking like this:
There has been some progress, like upping the max-velocity or adding movement to them, but not really. We want better.
In the meanwhile, the South Koreans introduced a clever feature to their batting cages: Screens.
Having an actual pitcher video with the ball makes it feel a lot more like actual pitching & hitting. Although, these are still not yet good enough with the pitch shape. We know that because the KBO teams don't use them for their own training.
So where are we at today?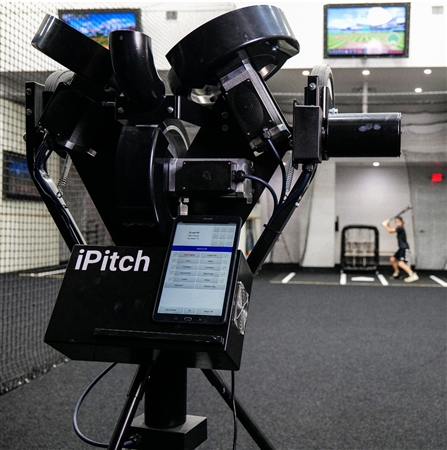 At the moment, we're up with the best pitching machines that features:
~90mph velocity
Multiple pitch types at ~3000RPM
Random pitch sequence
Which is quite an improvement from the typical pitching machines.
Sounds good enough, right? No. There's much more coming.
Soon we will have Complete Pitch Simulators.
---
Next-Gen Pitching Machines: Pitch Simulators
Why do I call them "Simulators", not Machines?
Because these Simulators will essentially be so realistic that they're almost identical to the actual at-bat.
Like VR simulations. They are the near-replacements of reality.
Features
Changeable Release Points
~150mph Ball Velocity
Precise Command; Ball shot to the exact location instructed
Pitch Types that not only consider Magnus(~5000RPM) but also Seam-Shifted Wake
Live Videos of the select pitcher, from the RHB/LHB perspective
Pitch Sequences & Locations that matches the select pitcher's patterns
These are every-aspect of the pitcher that makes a significant impact to his performance.
Let me give you an example: Josh Hader's Fastball(2020)
Deceptive Pitching Mechanics
94.5 mph
6.8ft Extension
5.2ft – 3.4ft Vertical-Horizontal Release Point
2063 RPM
10:45 Spin Axis
98% Spin Efficiency
16in – 12in Vertical-Horizontal Magnus Movement
1in – -2in Vertical-Horizontal Seam-Shifted Wake Movement
34in Vertical Location
All of these. Copy & Paste. In a simulation.
---
Impacts of Pitch Simulators
It's surprising to me that the MLB teams aren't pouring down money to create their own Pitch Simulators before anyone else.
Because it's a complete game-changer.
They will have such a big impact to the game of baseball. More than steroids have.
This isn't even hard to see. It's so obvious you can see in hindsight.
---
"Different" Pitches Won't be Effective Anymore
Why does the average fastball get crushed? Because it's the "average" pitch. Average means that it's common. Being common means that the hitters have adjusted to it. Or else they won't be playing.
100% of the successful pitchers(literally, name any pitcher) have pitches in their arsenal that are unique. Because they're unique, hitters have to take time to adjust to them. But by the time they fully adjust, the game is already over.
And there will be no more of that. At least for starters.
Before every game, using pitch simulators, hitters will prepare for the starting pitcher by having 100x simulated at-bats identical to the actual one.
"Third Time Through The Order"? That's gone.
It's not going to be the "3rd time". It's going to be the hundred-and-3rd.
The starting pitcher will have to suffer from the 3rd-time-through-order effect starting from the first at bat. Even worse, probably.
Clayton Kershaw's high Vertical movement on his Fourseam won't be so special anymore. At least for that game. The hitters have adjusted. It's just a normal fastball then.
Kyle Hendrick's SSW Sinker? That's just a straight 87mph Fastball like any other.
And by the way, closers aren't in a such a good position either.
The bench-members won't be sitting around. Instead, they'll be preparing for the closer. Not worry about the starter, just the closer, practicing against the exact pitch that he throws.
Right, Zack Britton' Sinker may no longer have that terrifying sink.
Although, the sub-bullpens won't be affected as much.
There's not an infinite bench-hitters. You can't prepare for 6 pitchers at once. The preparation would have to be focused on the couple likely bullpen pitchers.
So it would be fine for the utility-pens… until they become the starters. Or the closers. Or even the setup men.
Meanwhile, how will the starters respond?
Everyone will become Darvish Yu, maybe.
What separates the 1.Pitchers who survives 3rd-time-through-the-order, and 2.Pitchers who don't, is often by the number of pitches they throw; the width of their arsenal.
The "width" of the arsenal is the number/amount of contrast they get between 2 or more pitches.
For example, a typical hitter won't be able to sit on both Max Scherzer's Fastball AND Slider. They're too far apart. That's what you call "contradicting pitches". Pitches that do opposite things, so that the hitter can't wait for both at the same time.
Many starters only have 1 quality coupling of contradicting pitches, mostly Fastball-Slider. That's a problem, as soon as the hitter adjusts to one. because then, 1 hanging-slider = gone. At that point, the pitcher only has the option to pray that the 50% chance of right-guessing is on their side. And this luck obviously don't come to the pitcher every time. It's 50%, after all.
Hence, the prerequisite for becoming a starter will become: 2 couplings, or a set of 3 contradicting pitches.
---
100mph Won't be So Fast Anymore
And it doesn't mean that the average velocity will jump to 110mph. The velocity surge has been plateauing, and there hasn't been any new signs for adding any more than a few mph on the modern pitcher.
But the statement holds true. Because hitters will train against 120mph pitches, using pitch simulators.
I, and many others, believe that even if the average Velocity goes up to 100mph, the average Batting Average will eventually come back to .250. Because the hitters will adjust. And they always have.
50 years ago, 100mph pitch was straight-up untouchable. Because hitters never saw them. They couldn't adjust to the faster speed. Today, 100mph pitches are still very effective, but are no longer untouchable.
What happens when hitters practice against 120mph pitches?
100mph will feel like what 90mph is today.
Like what 80mph was yesterday.
Pitching velocity might not matter as much.
Don't get me wrong, for ever-and-ever, velocity will matter.
But it seems that 4mph difference between pitchers won't be as impactful as it is today. In today's world, the difference between 92mph and 96mph is pretty big. 96mph and 100mph? Phew. But the difference between 88mph and 92mph isn't as big. It's more true between 84mph and 88mph.
Meaning that, in a world where hitters adjust to 100+mph, everyone is a low-velocity pitcher; the difference between 92mph and 96mph will be somewhat significant.
How will that change the trends of baseball?
…
…